PEPPOL is a constantly growing network for the exchange of business documents with a very high level of standardisation. It is mainly used in exchanges between business enterprises and public authorities. More and more public authorities can be reached via PEPPOL. In order for companies to be able to use PEPPOL, they either have to operate their own access point or use a provider who saves them the trouble of setting up, maintaining and operating it and connects their systems. We are happy to take on this task for you, as well as all other TRAFFIQX® providers.
PEPPOL is used in 32 countries in Europe as well as in Australia, Canada, New Zealand, Singapore and the USA. PEPPOL authorities are already active in 15 countries. Currently, there are OpenPEPPOL members in a total of 38 countries. OpenPEPPOL has certified access points in 26 European countries as well as in Australia, Canada, New Zealand, Singapore and the USA.
PEPPOL Access Point (AP)
b4 is a certified PEPPOL Access Point and provides access to PEPPOL for all participants in the TRAFFIQX® network. All TRAFFIQX® providers offer their senders and recipients both registration with PEPPOL and the sending and receiving of business documents via this technology.
PEPPOL Service Metadata Publisher (SMP)
As a participant in the TRAFFIQX® network, it only takes a few clicks to register with Peppol. As a certified PEPPOL SMP, we can provide all the necessary information and generate a PEPPOL ID for our customers. They are then also fully-fledged Peppol participants.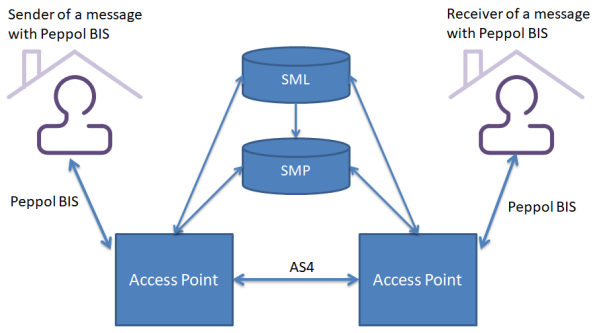 PEPPOL explained simply!
Interested in more?
Would you like to learn more about Peppol and find out what benefits await you? Then take a look at our web conference award and learn all about the connection to Peppol through b4 and the TRAFFIQX® network.