We are a Multichannel Provider in the TRAFFIQX® Network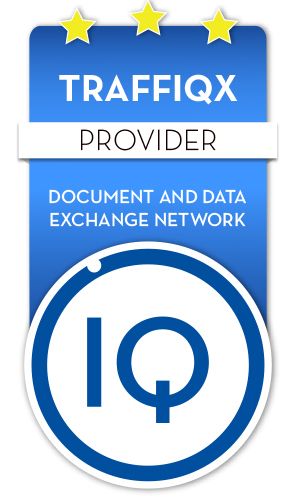 As a provider in the TRAFFIQX® network, we offer our customers uncomplicated access to all TRAFFIQX® services. With us, companies of all sectors and sizes are able to automate the processing of all transaction documents to the greatest possible extent:
Without investment
Without a project
Without changes to working methods
With a TRAFFIQX® provider, companies of all sectors and sizes, as well as public authorities at federal, state or municipal level, are able to send and receive documents via all known transmission channels. In doing so, they automatically fulfil the requirements of the respective business partner. All required document and data formats are available. Each of the participants in the TRAFFIQX® network selects from our pool which document and data formats can be delivered or received and via which method and transmission channel. We take care of the remaining coordination - if necessary. And until all processes are fully digitalised, we offer our participants economical solutions for both sending and receiving, even for letter post and e-mail. In doing so, we attach the greatest possible importance to security, transparency and efficiency.
For the transmission of documents to private customers, we also have the right options in our portfolio so that all participants remain protected from spam, phishing and fraud attempts.

Sending documents
Simply continue to use your current systems for creating invoices, credit notes, reminders, orders and delivery notes. We connect your systems to the TRAFFIQX® network and automatically read out all the information contained. We create your internal checking and release rules and even expand your options. Your recipients receive your documents in their desired format and via the most efficient way to process them - without any further intervention. With TRAFFIQX® you meet all standards, integrate into your customers' processes and significantly reduce postage and process costs!
Receiving documents
A heterogeneous document input is still the norm today. A medium-sized company must be able to deal with letter post, e-mails and modern data sets. Most of the time, however, one finds it difficult. We offer you consolidated incoming document processing that raises all transaction documents to a level that can be automated. With procedures that make processing better and better, you optimise processing times all the way to electronic archiving. We connect existing workflow or archiving systems and optimise what is not yet running optimally. Efficient document processing does not have to be expensive!
Connecting business partners
The more paper documents can be replaced by electronic documents, the higher the efficiency and the savings. This applies to both the sender and the recipient. Even if there will be no 100% electronic document exchange in the short term, it is still our task to convince and invite your business partners to take advantage of mutual potentials. To this end, we have a wide range of options for implementing recurring campaigns for a wide variety of target groups. In close cooperation with you, we network your customers and suppliers. Become a little more electronic every day!
TRAFFIQX® Network
We don't just use TRAFFIQX® technology - we are part of it, just like every single provider. This means that all participants in the TRAFFIQX® network are accessible to each other and easy to connect. Each new participant enriches the network and adds value to the existing participants. New developments and features, which are often brought to us by market requirements, are automatically available to the entire network. Each provider and each client therefore benefits from the experience and challenges of the other. This is a win-win situation like no other. Become part of the TRAFFIQX® network.
Interoperability
Thanks to roaming contracts, interoperability agreements and direct connections, we also establish connections to companies that can be reached at providers and platforms outside the TRAFFIQX® network. In addition, state platforms at home and abroad are connected ebi TRAFFIQX®. A heterogeneous system landscape and individual contracts are therefore obsolete with participation with one of the TRAFFIQX® providers.
Interfaces to third-party platforms and the integration of multipliers such as DATEV Connect even make it possible for incoming and outgoing documents to be forwarded electronically all the way to the DATEV tax advisor. Electronic document exchange could hardly be more efficient.